The Apartment Medellin was founded by Andrew Campion, who has over 10 years of experience in Colombia. The company helps its clients by providing the most comprehensive information available regarding furnished apartment rentals in Medellin. At The Apartment Medellin, we believe there is a growing need for a personalized luxury service for individuals who demand the best. We understand that your time is important and we aim to make the process of renting in Medellin easier than it's ever been before.
Andrew Campion
Andrew Campion is an Australian entrepreneur who founded the first luxury apartment rental business in Medellin in 2005 and set the industry standard for excellence which he continues to this day. With over 10 years of experience in the local real estate market, Andrew, along with his professional staff and associates, are able to offer the most comprehensive information available regarding property investment and furnished rentals in Medellin.
John Duque
John lived for 14 years in the US before returning to Colombia. In Medellin he attended Maria Cano University where he majored in international business. As First American Realty's first employee John also has been instrumental in forging valuable relationships with local realtors, developers and making important business contacts.
Yudy Gil
Yudy started with First American Realty and The Apartment Medellin in 2014 and has provided and excellent level of service to our customers ever since. Born and raised in Medellin, Yudy is self taught English and is one of the friendliest and most likable employees in the company.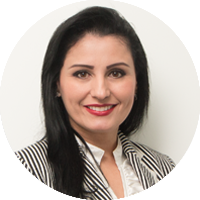 Nancy López
Nancy is a Business Administrator from Universidad Autonoma of Bucaramanga and has a Masters in Direction of Digital Marketing from European Institute of Postgraduate in Spain. She has 18 years of work experience and has worked as Director of Hotel Operation in San Fernando Hotel and Dann Carlton Hotel, she also has experience in Digital Marketing and Commercial Area Management with emphasis on marketing and sales.
Cristhian Obando
Cristhian is born and raised in Medellin and taught himself English. Prior to joining First American Realty he spent five years as a technical specialist for a company in the Monterrey electronics mall in El Poblado. He has been a great addition to the property management group as well as assisting in obtaining and preparing residential listings. He is fearless on his motorcycle, skateboard and on the soccer field. He brings those same energies to his work.
Santiago Alvarez
Santiago learned English on his own, he is now studying Foreign Languages at the University of Antioquia, He is an outgoing person, very passionate about customer service and likes dealing face to face with people.